Product Range
DAMPA Tiles

This system consists of various types of tiles in many configurations with different function and architectural expressions, both in aluminium and steel. All tiles are clip-in tiles to be installed into a concealed suspension system. Carrier No.4 and Carrier No.10 accommodate both Tiles with Bevelled Edge and with Square Edge, although the two types of tiles are not to be mixed within the same grid work.
DAMPA 10/100/200/300

The DAMPA 10/100/200/300 Marine Ceiling Systems consist of different modular units which can be installed on the same Modular Carrier No.40 in any combination offering many possible design and functional applications. DAMPA 10/100 ceiling units are as standard supplied without end closings, whereas DAMPA 200/300 ceiling units are supplied with end closing.
DAMPA DCC 300/200

The DAMPA DCC 300/200 System is a Fire Rated, Suspended Marine Ceiling System consisting of linear ceiling panels in two modular widths, 300mm and 200mm. The same carrier type is used for both widths. Fast and efficient installation is assured, as ceiling panels are supplied 'pre-cut' in accordance with customer drawings and specifications. By use of only a few basic components a functional and aesthetically pleasing ceiling can be designed to suit all types of areas.
DAMPA DCC 300 Luminaires

The luminaires are designed to ingrate both aesthetically and functionally with the DAMPA DCC 300 Ceiling System – providing all support needed. Luminaires can be ordered to be installed either parallel or crosswise to the length of the DCC 300 Ceiling Panels. Crosswise luminaires integrate also with DCC 200 Ceiling panels.
P: +61 (0) 8 9302 5777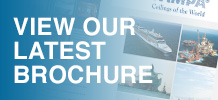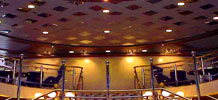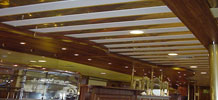 Contact
PO Box 70
Duncraig East LPO
Western Australia 6023

P: +61 (0) 8 9302 5777
M: +61 (0)419 916 143
USA Cell : +1 (206) 491-1078